Deer hunters have played a critical role in CWD (chronic wasting disease) surveillance since 2002.  The deer head samples provided by hunters are key to identifying potential cases of CWD in Ontario.   So far, no CWD has been detected in the province, but the disease has come dangerously close.  In 2018, CWD was confirmed on a Quebec red deer farm just 15 km from the Ontario border.
"The important role of hunters in keeping Ontario CWD-free cannot be overstated. Simply put, if hunters weren't submitting samples, we'd have no way of detecting CWD early enough to ensure it doesn't take hold in our deer, moose or elk populations," says Dr. Keith Munro, OFAH Wildlife Biologist. "If you harvest a deer in one of the surveillance zones, please do your part by submitting a sample."
Why should hunters care?
CWD is highly infectious, incurable, and 100% fatal to members of the cervid family, which includes Ontario's native white-tailed deer, moose, elk and caribou. CWD can cause population declines and is extremely hard to eradicate once it gets established, making early detection so important.
Where is CWD testing happening in 2020?
Eastern Ontario in Wildlife Management Unit: 65, from October to December 2020.
Southwestern Ontario in Wildlife Management Units: 92B, 92C, 93A, 93B, 93C, 94A, and 94B from October to December 2020 (maps attached).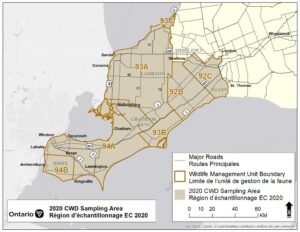 What do I do?
During the firearms hunt, roving MNRF crews will be visiting hunters and hunt camps and asking to take samples directly from the head of your deer. To contact the roving crews, call 1-888-574-6656.
If you miss the roving crews, you can drop your deer head off at one of the MNRF's freezer depots. For information on the surveillance program, including the depot locations, visit www.ontario.ca/cwd.
The first 500 hunters in each surveillance area who provide a tissue sample from a deer taken in a surveillance area will be provided a participation crest. Note that CWD can't be detected in fawns so the MNRF only accepts samples from yearling or adult deer.
CWD and the OFAH
For the past three decades, the OFAH has been asking governments to take action to keep CWD out of Ontario www.ofah.org/cwd. In 2019, the MNRF adopted a new CWD Prevention and Response Plan that includes many of the OFAH's longstanding asks. We'll keep working to ensure the health and safety of Ontario's wildlife.
If you see any wild animal (not just deer) acting strange or sick, or if you find a dead animal, report it to the Canadian Wildlife Health Cooperative at 1-866-673-4781 or Ministry of Natural Resources and Forestry's Natural Resources Information and Support Centre at 1-800-667-1940.