As I watch the snow slowly settle on the landscape from the window of my make-shift home office, I can't help but reflect on 2020 and think ahead to all the wonderful things to come with the spring melt. But before we get there, I'll start by rewinding to 2017, when the ALUS Peterborough community chapter of ALUS's national network first began at the OFAH. That was also the first time I'd heard of the program, though at that time I was embarking on my first year with the OFAH's Invading Species Awareness Program as the Terrestrial Specialist.
As most readers will know, one of the OFAH's priorities is the conservation of habitat for fish and wildlife, and that lines up with the vision of ALUS, a national organization in communities across Canada. ALUS's vision is a healthy landscape that sustains agriculture, wildlife and natural spaces, made possible by supporting farmers who choose to take marginal farmland out of production and convert it to natural spaces. This re-naturalized land provides ecological services such as air and water filtration, bank stabilization, flood water retention, pollination and carbon storage, to name a few.
How Alternative Land Use Services (ALUS) Works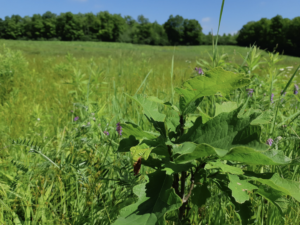 In an ALUS community, there is an ALUS coordinator who works with interested farmers to identify good stewardship opportunities on their lands, and with them develops a project proposal, including the budget, landowner contributions and commitments, and identifies ecological and agricultural benefits. ALUS funding can support materials and contracting for the project, or annual payments for the duration of the agreement between ALUS and the landowner, which typically lasts at least five years. These annual payments to the farmer recognize the new ecological service that the farmer is providing and maintaining, and are based on local land rental rates.
Local agricultural needs and environmental priorities are always important and are met through the community-based approach ALUS takes. Each community's volunteer ALUS Partnership Advisory Committee (PAC) works with the coordinator to review and consider projects for approval, and is made up of local farmers, as well as local agency representatives. Here in Peterborough that is Otonabee Conservation, Kawartha Conservation, and Peterborough Greenup.
Since it started in 2017 our ALUS Peterborough program grew local interest, participants, projects and partners steadily under its former coordinator, who returned to full-time farming in 2019 and passed the reins to me. After four full years, there are 23 projects established across the region totaling 207.2 acres of re-naturalization.
And although 2020 was not without its challenges, one great news story is ALUS Peterborough was the successful recipient of an Environment and Climate Change Canada EcoAction Community Funding Program grant of almost $75,000. This grant will fund both program operations and on-the-ground projects, and aims to re-naturalize at least 33 new acres of marginal farmland in 2021.
Now circling back to the view from my home-office window, while the snow continues to accumulate the groundwork is underway for the program's spring rollout. Projects planned for 2021 include native prairie pollinator habitat, multi-row tree and shrub shelterbelts, nesting structures and delayed haying practices. While these projects benefit farmers and their communities, the benefits for fish and wildlife ultimately also benefit anglers and hunters by improving water quality for our fisheries and creating and connecting habitat.  As ALUS grows across Ontario, there is an obvious connection between its work and the conservation values of the OFAH, and we look forward to a long and fruitful partnership with them, using ALUS Peterborough as our local example of what the program can do.
Get Involved
Farmers in the Peterborough and Kawartha Lakes regions are welcome to connect with Kate Powell, ALUS Peterborough Program Coordinator, for more information or to discuss opportunities. This project was undertaken with the financial support of the Government of Canada through the federal Department of Environment and Climate Change.
ALUS Peterborough also has funding provided in part by OFAH conservation lottery programs.