Count sleeps, don't lose them!
Let's count down the sleeps until turkey, trout and bear openers instead of losing sleeps over the stress and worry about a spring without these traditions.
The OFAH understands. You've had every right to be agitated and anxious. We have some good news.
A year ago, the Covid-19 closure question was looming over everything, including spring hunting and fishing.  At the OFAH Annual General Meeting last week, the Minister of Natural Resources & Forestry, John Yakabuski, confirmed that in the wake of his government's third wave stay at home and lockdown orders, there are in fact no government plans to lockdown fishing and hunting opportunities. "We're not planning to change any of those opening season dates," the Minister said.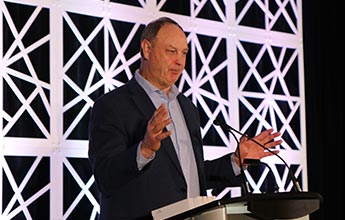 The Minister also confirmed that anglers in particular were closer than perhaps they ever imagined to a spring without fishing on the heels of the pandemic. That's why the OFAH worked around the clock to take action against nearly executed government calls for local or provincial fishing closures.
"[It was] certainly a discussion in the spring of 2020," the Minister acknowledged in the company of hundreds of OFAH members online last week.
"But I am very thankful that and grateful for the input that I received from you and your membership [the OFAH]," expressed Minister Yakabuski.
How the OFAH stepped in.
The grassroots advocacy and professional public awareness leadership of the OFAH has never backed down in the past 14-months. We pushed for a government commitment to stand up for hunting and fishing, and we raised hell over the unnecessary municipal closures of boat launches. We are still fighting. We are doing everything we can on the backs of membership dues, corporate support and donations.
Thank you for being there for fishing and hunting. We are working hard to update all of the information anglers and hunters need to know related to the current stay-at-home order. Later this week we will follow up with links to the updated information, please make sure to subscribe to our E-News, and in the meantime please let us know about any closures in your area.
Your support helps the OFAH reinforce important public safety guidelines while communicating how physically distanced, localized fishing and hunting are the cure for mental health, economic activity and conservation. You made a difference when you reviewed, followed and shared OFAH safety tips and our timely news updates on how the pandemic affects hunting and fishing. Great work!
Stay safe. Stay strong.
We are in this together. Uptake in the traditions of fishing and hunting has never been so strong and everything the OFAH and our conservation partners have worked hard to achieve (turkey and bear hunting, lakes stocked with trout and salmon, etc) cannot be taken for granted during and long after the pandemic. Your VOICE in OFAH membership is in the echo of calls for more fishing and hunting opportunities, especially right now. Your HARD EARNED DOLLARS in OFAH programs and fundraisers such as Catch the Ace bring new hope to the volunteer who works their backs off on behalf of fish and wildlife. When we look back on what the outdoors brings to mental health and economic benefits in a time of crisis, the conservation volunteer will be among the pandemic's proudest unsung hero.
You are important to the OFAH.