Orange is often the first colour that comes to mind when people think of hunting. But there's another colour just as important to many hunters, though for very different reasons.
It's yellow. No, really, it's yellow.
Let me explain.
You see, there is a map that is published twice a year – in the spring and fall – by the Ministry of Northern Development, Mines, Natural Resources and Forestry, which outlines the municipalities across southern Ontario that permit Sunday gun hunting. There was a time when that map, the most recent version of which you can see below, had a whole lot of white on it. If you were in the white, you couldn't gun hunt on Sunday. However, a lot has changed over the last 15 years and plenty of that white has turned to yellow now, with more to come.
How did that happen? We'll dive into that below, but the quickest way to explain it now is that it happened because of the OFAH and OFAH members, and today, Sunday gun hunting remains one of the OFAH's most important success stories as it has helped provide hunters with much-needed flexibility to choose when they can go hunting amidst increasingly hectic work and personal schedules.
THE BEGINNING
The origins of this story dates back to 2006 when in partnership with the Ontario Federation of Agriculture and the then Ministry of Natural Resources, we launched a program that would lobby municipal governments to open up opportunities to hunt on Sundays in their area. Right off the hop, there were a total of 67 municipalities that got on board with Sunday gun hunting. It was a great start, to be sure. But the heavy lifting to get us to where we are today was only beginning. Municipalities north of the French River already had Sunday gun hunting, and the time was right to bring the same opportunities to southern Ontario hunters.
GETTING THERE WASN'T EASY
The OFAH started this push and today remains the only organization advocating for Sunday gun hunting in southern Ontario. In the years that have followed its introduction, we've continued to spend considerable time and resources in helping to make these opportunities happen. In those early days, we were running the roads and appearing before municipal councils all over the province to talk about the benefits of Sunday gun hunting.
Those benefits include creating opportunities and access for millions of hunters in southern Ontario each year. When you put that into perspective, it has added up to millions of hunter days since it started and will continue to grow each and every year offering landowners, farmers, and hunters more choice for when they can go hunting. Consider a few examples like the gun hunter who enjoys duck, deer, and turkey seasons that now has more days of hunting in spring turkey season, more days in gun hunt for deer, and multiple Sundays in a duck blind that would have otherwise sat empty if not for the ability to hunt on Sundays. That may not seem like much to some, but trust me, those additional days and opportunities are significant.
HUNTING WITH A GUN ON SUNDAY SHOULD BE AN OPTION
Times have changed so much from decades prior, and even more so since the inception of Sunday gun hunting. It used to be that church was one of the few activities on a Sunday. Today, Sunday is just another day of the week for many people who work shift work or multiple jobs or have other responsibilities like running their kids around to extracurricular activities, just to name a few examples. The point here is that the flexibility I mentioned above is more important today than it ever was, not to mention the fact that Sundays are virtually open for business in every other regard these days, so why should this be any different?  I should also add this fact: in municipalities where Sunday gun hunting is not permitted, you can bow hunt on Sundays assuming it is an open season and there isn't a restrictive bylaw. You can also discharge a firearm (again, assuming there isn't a restrictive bylaw) while plinking or doing target practice on Sundays. So, why not Sunday gun hunting? I totally respect those individuals who choose not to hunt on Sundays for personal reasons, religious or otherwise, but we can't deny that there are many hunters in Ontario today who now rely on Sunday as an important part of their overall hunting opportunities. The keyword is, choice. Landowners can choose to not allow hunting on Sundays. Individual hunters can choose not to go hunting on Sundays. But those choices shouldn't prevent other hunters from accessing those opportunities.
I am a first-hand example of why this is important. Like many of you reading this article, my spare time is extremely limited. I have been blessed with three beautiful children; one who plays rep hockey, one who has severe Cerebral Palsy and requires 24-hour care, and a baby girl, and while I wouldn't change any of this for the world, I'll be honest, my schedule usually only allows me to slip away for a short period of time, and often on a Sunday morning when there is a little less going on on the family front. Sunday gun hunting has and continues to provide that opportunity for me.
Just this year, during the spring wild turkey season, which opened on Sunday April 25th, I was lucky enough to get out into the blind. Where I live, our municipality is one of the 187 in southern Ontario that has passed a resolution to approve Sunday gun hunting. This Sunday morning represented one of the brief periods of time during the week where I could slip out with my oldest son, Bryce (10), and we were successful in harvesting a beautiful jake, making for a hunt that we will both remember forever. This opportunity would not have been possible without the hard work and forward-thinking from the OFAH.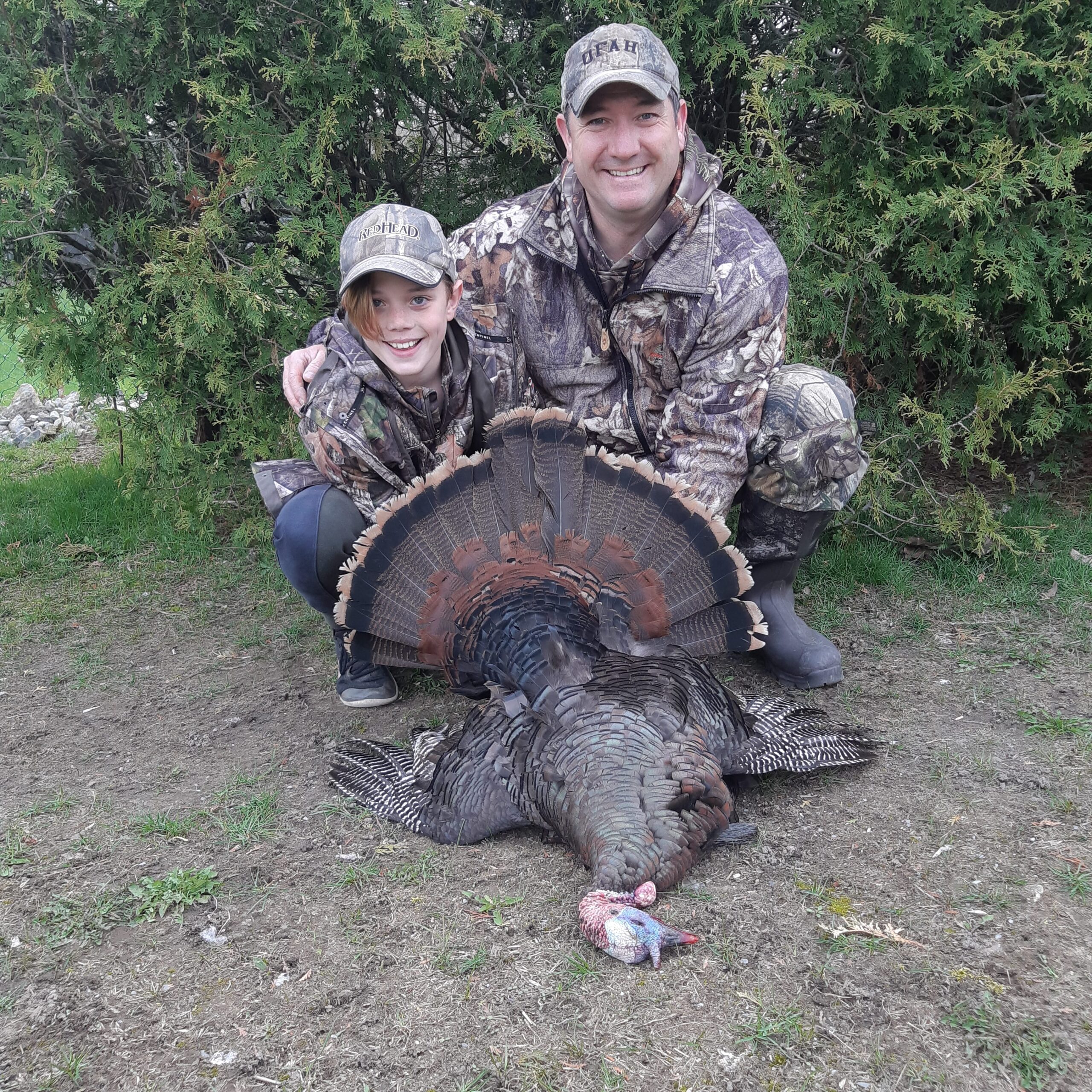 Fast forward one week. The next time I was able to get back to the blind was the following Sunday, and I was fortunate enough to harvest my second turkey, a beautiful tom.
Two days of hunting. Two amazing harvests. And two Sundays provided the opportunity needed to get that done.
This topic brings together both my career and my family life. While I am the primary OFAH staff member responsible for advocating across southern Ontario for these opportunities, I am also one of the examples used to highlight the need for it. Sunday gun hunting is all about opportunity, and for me, I am so incredibly grateful for this initiative. Without Sunday gun hunting, I would be left wishing for just a little bit more free time to chase my outdoor pursuits.
THE BIGGER PICTURE OF SUNDAY GUN HUNTING
There are many other broad benefits that can be derived from having opportunities to hunt on Sundays. More hunting leads to better wildlife management, a decrease in crop and livestock predation, an increase in public safety (more opportunity leads to more harvests, which leads to fewer animal/vehicle collisions), and perhaps most importantly to some municipalities, there can be a positive economic impact. As any hunter knows, pursuing our passions isn't a cheap endeavor. The equipment – firearms and ammunition — costs money. The clothes cost money. So does the travel. Just look at the gas in our trucks and the food in our mouths when we stop for breakfast, dinner, or lunch near our favorite hunting spot as quick examples. All that to say we spend plenty of money doing what we do and much of that money is spent in and around the areas we hunt, so there's the benefit. More opportunities help create more spending and with that, a broader benefit for those outside of the hunting community emerges.
WHERE DO WE GO FROM HERE?
Perth South and Brighton were the latest two municipalities to see the benefits with both passing resolutions to approve Sunday gun hunting earlier this year. Effective Sept 1, 2021, hunters in those areas were good to go on Sundays.
Looking ahead, OFAH's focus on this file is shifting. In recent years we've taken the approach of addressing and handling Sunday gun hunting opportunities when members or local councils bring them to our attention. Today, the focus needs to be on pushing the provincial government to finally step in and approve any remaining holdout municipalities that refuse to adopt Sunday gun hunting for reasons that are often based on little more than personal opinions and a lack of understanding towards hunting in general. The OFAH shouldn't need to convince a municipal council that Sunday gun hunting is beneficial to their constituents and communities or defend a past resolution when a new council is elected. Sunday gun hunting has proven itself many times over and working well across most of Ontario.
It's time we colour in the last few areas to make the whole map yellow.