With COVID-19 changing many of our lives in 2020, it's been hard finding solace in the things I would typically enjoy: being with friends, visiting with my family, working at the OFAH head office, which is filled with amazing people, and travelling for work to educate Ontario's public about aquatic invasive species (AIS).
But, as 2021 begins, I'm filled with an undeniable energy that the new year will come new opportunities and change. I begin to look forward to the things that can still provide me with solace in the age of social distancing; most notably, that walk onto the frozen waters off the shores of Lake Simcoe.
Each year, as soon as we hear there is safe ice, my brothers and I head out onto the ice of Lake Simcoe in search of some Yellow Perch, maybe some Lake Trout, and hey, even the occasional Burbot. As I walk down onto the ice, I see the all too familiar billboard: "Don't dump your bait!" It makes me recall the many trips I've made with coworkers and colleagues to switch out the billboards between summer and winter messaging year after year. It makes me think of the time that has passed as I've worked in the invasive species world. Most notably, it makes me think of all of the work we've done at the OFAH and the Invading Species Awareness Program (ISAP) to try and protect the Lake Simcoe fishery from AIS. Yet, despite these efforts, in tandem with the countless partners who also work to protect the fishery, I know that I'm heading out onto the most heavily fished in-land lake in southern Ontario and, by most accounts, the most invaded by AIS.
In reality, Lake Simcoe experiences more angling visits in the winter months than each of the other three seasons combined. I mean, look at me as a prime example. I will ice fish on Simcoe probably two or three times this season, yet never come here during any other season. This, mixed with it being the largest and most visited in-land lake in Ontario, adds to the risk of exposure to unwanted invasive species.
But, as I said before, I'm filled with an undeniable energy that comes with new opportunities and change in 2021, as I will work with my colleagues within the ISAP to engage the recreational users of Lake Simcoe on the issue of AIS. Over the next few months, we will be working to ensure that people are aware of, not only the ecological, economic, and social value of Lake Simcoe, but the impacts Lake Simcoe faces as a result of AIS. We will be hosting virtual information sessions and developing new resources to address current, high-profile species, such as water soldier and starry stonewort. We will be engaging anglers through Operation Bait Bucket, and, as we do every summer and winter, will be ensuring the "Don't dump your bait!" billboard is greeting anglers walking onto the frozen water off the shores of Lake Simcoe.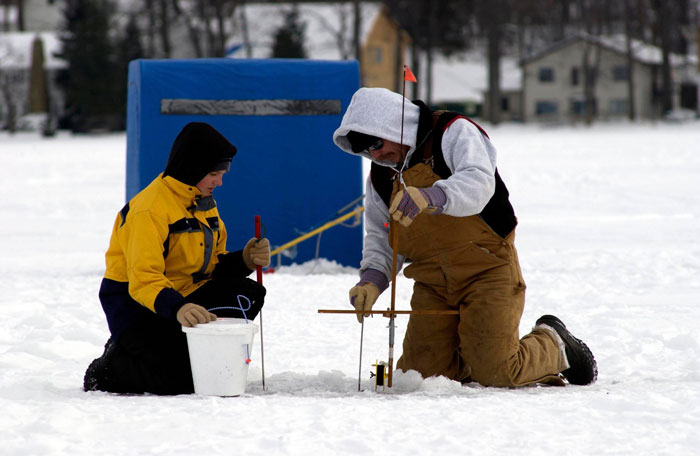 As I stand, looking at the billboard and its messaging, I know these waters have been invaded by the likes of Round Goby, Goldfish, Eurasian water-milfoil, Chinese mystery snail, and even a nasty fish pathogen, known as VHS (viral hemorrhagic septicemia). All in all, there are approximately 20 AIS that are now found in Lake Simcoe. But, just as the pit in my stomach reminds me of the invaders that now call Lake Simcoe home, I, too, am filled with pride in knowing that countless other AIS have not been given a free-ride into the lake as a result of all the great work ISAP and our partners does to protect the fishery, in combination with the unseen efforts of anglers, such as yourself, who have educated themselves on AIS and how to prevent their spread. So, don't think the battle against AIS is over. It will never be over and collectively we need to continue to educate ourselves and others as we strive to protect Ontario and its waters from unwelcome aquatic invaders. Please, for our renowned and treasured fishery, as I stand looking at the billboard with my ice fishing rod in one hand and a newly acquired bucket of bait in the other, I have one message for you: don't dump your bait!
Well, maybe one more message: if you suspect you've encountered an aquatic invasive species, take a clear photo, note your location, and call the Invading Species Hotline at 1-800-563-7711 or report online at www.EDDMapS.org/Ontario.
For more information on invasive species, including the bait bucket pathway, please visit http://www.invadingspecies.com/live-bait/.