An extremely adaptable fugitive is on the loose and is posing a serious threat to Ontario's natural resources and agricultural industries. Last seen causing widespread problems in Canada's prairie provinces and many American states, wild pigs (Sus scrofa) have been reported in central, southern, and eastern Ontario in small, localized groups, but their ability to reproduce quickly, destroy native ecosystems, and spread disease have landed them on the list of Ontario's Most Un-Wanted.
To help stop the problem before it grows, the OFAH has launched a program with volunteers to deploy, bait, and monitor trail cameras with the goal of increasing the level of wild pig surveillance in Ontario.   
THE ISSUE
Wild pigs (other aliases include wild boar, feral domestic pigs, and even hybrids of the two) are an exceptionally successful invasive species in many regions all over North America. In places like Florida, where pigs were intentionally introduced in the 16th century by the Spanish explorer, Hernando DeSoto, they have established and spread. Then, in 1912, the Eurasian boar was introduced to the state of North Carolina. This introduction of the Eurasian boar then led to subsequent introductions as far west as California and into adjacent states like Louisiana, Georgia, and others. Today, it's estimated that wild pigs account for approximately $1.5-billion in economic losses to the agricultural industry each year in the United States. In many other regions, they have been introduced to native habitats through escapes from farms as well as being intentionally introduced. Once free, their reproductive capabilities are incredible, as they mature at six months and can have two litters per year with 4-10 piglets per litter. This results in exponential growth and it is suggested that to prevent further growth of an established population, at least 70% of the population would have to removed—every single year. Moreover, they destroy native ecosystems through their feeding habits and compete with native species for food and habitat resources, ultimately reducing biodiversity.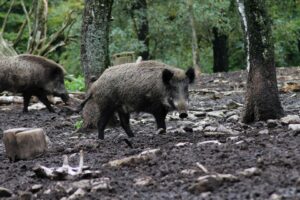 CAN HUNTING WORK?
Simply, and scientifically and historically, put – no. This may seem like a strange thing for a hunting organization to say, but we know, in this case, hunting makes the situation much worse, as research and management experience from the United States Fish and Wildlife Service has repeatedly demonstrated removing small portions of the population via hunting has an insignificant impact. Recreational hunting doesn't work because wild pigs are highly developed psychologically and intellectually, and they are very successful when it comes to being elusive when there are disturbances. What hunting does result in is a smarter wild pig, as they scatter and break up their groups (also called sounders). This teaches the wild pigs to avoid hunters while also expanding their distribution as they evade and disperse. The only real solution is to capture and remove an entire sounder, which can only be conceivably done by trained professionals using specialized techniques, such as baited trapping. 
SURVEILLANCE PROGRAM GOAL
The OFAH has always believed in making conservation decisions that are guided by science and the science on wild pigs is clear: they are an invasive species. In the world of invasive species, the most important and impactful component in preventing an established population is education, early detection, and rapid response. But, a response cannot occur without information. The early detection of any free-ranging pigs is vital to preventing the establishment of this invasive species. Therefore, in addition to increasing public awareness of wild pigs and the threat they pose, we are working to increase Ontario's surveillance capacity. With funding received through the Green Shovels Collaborative, we have established the Wild Pig Surveillance Program to harness the power of engaged citizens of Ontario.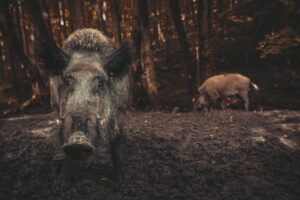 HOW CAN YOU HELP?
Be on the lookout for wild pigs! We are currently encouraging members of the public to become engaged by following our OFAH Wild Pig Trail Camera Detection Protocol and putting out your own trail cameras to look for wild pigs. During your surveillance or any other time, if you think you've seen a wild pig, take a photo, mark your location, and report to the Invading Species Hotline at 1-800-563-7711 or by sending an email to info@invadingspecies.com  
In closing, we'd like to extend a special Thank you to the Green Shovels Collaborative for supporting the WPSP.