Normally, every January through June the Bring Back the Salmon (BBTS) classroom hatchery program is running full-tilt in schools around Lake Ontario.  In 2020, for instance, we had hatchery units in 75 schools plus 10 non-school public locations from Hamilton and Orangeville to Kingston.  In the program, students watch Atlantic Salmon eggs develop and hatch into juvenile fish and then the students release the fish into a local restoration stream.  Along the way, students receive an in-class presentation and activities to help them learn about natural heritage, biology, and habitats, with the goal of inspiring kids to be stewards of local streams that have 'their' fish.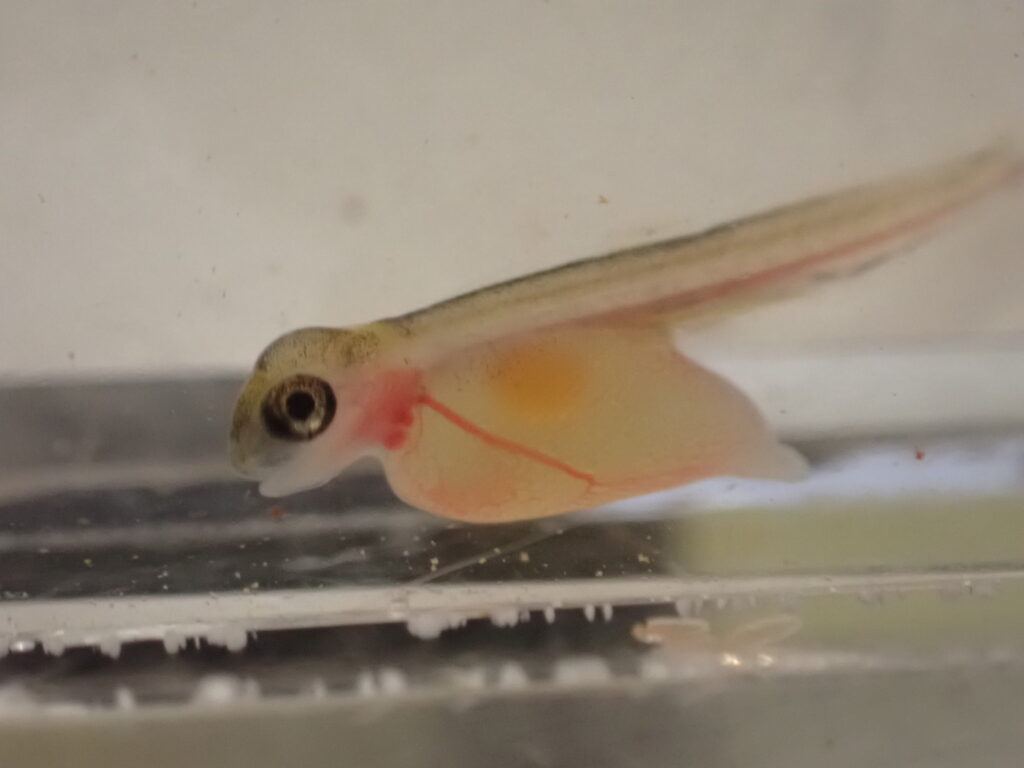 WHY ARE STREAM STEWARDS IMPORTANT?
As most of you will know, Atlantic Salmon were once a very abundant and important game fish in Lake Ontario and its connecting streams. However, European settlement led to deforestation, damming of rivers, overfishing, and pollution, which combined to cause the elimination of Atlantic Salmon from the Lake Ontario watershed by 1898. Starting in 2006, the BBTS program is reintroducing Atlantic Salmon through fish stocking, habitat restoration (which benefits many other species as well), research and monitoring, and outreach/education activities.
As the OFAH's Atlantic Salmon Educator, not only would I love to see a future where Lake Ontario is once again teeming with Atlantic Salmon, I recognize that the impact of the classroom hatchery program is so much more. Through the story of the loss of this fish, related science, and the restoration efforts, we are helping connect thousands of kids to the natural environment. I personally believe a lack of connection to the natural environment by a large part of the human population is the root of most of our environmental problems and the greatest threat to the health of our planet and the abundance of our natural resources.  The classroom hatchery program inspires curiosity, and while helping to restore Atlantic Salmon, it also helps restore the human-nature connection and the ethics of conservation valued by the OFAH.
Naturally, this is a lot easier to do when one isn't in the midst of a global pandemic. Working with the cards we'd been dealt, we prepared contingency plans and by the fall of 2020 it was apparent that running this impactful program in classrooms for 2021 was not an option. To the OFAH, putting the program on hiatus for the year was also not an option. As many other educators have done this year, we decided to accept this challenge and step into the unfamiliar and uncomfortable realm of teaching remotely.  A 15-week virtual program, now named Classroom Hatchery Television (CHTV), was born and launched in late January.
Certainly, there is a loss from not being in class and in-person directly interacting with students, and kids don't get to have live eggs/fish in their classroom, but new opportunities were quickly realized.  The regular (pre-pandemic) program saw three visits to classes over the winter and spring, with one to three (often just one) different speakers. With CHTV we present to students up to fifteen times, and while I am the regular host, I am also virtually bringing in 13 other guests from both the OFAH and partnering organizations: the Ministry of Natural Resources and Forestry, Ontario Streams, Ontario Power Generation, ecospark, local conservation authorities, and the Toronto Zoo. Together we are able to cover more subjects and expose the students to a variety of potential career options and angles of inspiration.  Additionally, we are not restricted by travel, equipment, or staff time to how many schools we can reach or where they are located, and so this year many more schools from across Ontario are participating.
So far, many teachers have reached out to let me know how much they and their students are enjoying the program and how much they appreciate the extra resources through this challenging time.
CHTV is a recorded video program, and as such is also available to anyone interested in following along, including you, your friends and family, and any classes you know! We are shooting episodes through to early May 2021, so you can catch up on past episodes and find new ones at www.bringbackthesalmon.ca/classroom-hatchery-program!
Classes also have the option to book live Q&A sessions with one of our biologists.  Interested teachers can email me at ben_teskey@ofah.org
---
CHTV is made possible through funding provided by the Ontario Trillium Foundation and the title sponsor of the Lake Ontario Atlantic Salmon Restoration Program, Ontario Power Generation.