Author's Note: There is a critical need for conservation funding in Ontario. Most of our readers are anglers and hunters who contribute a large percentage of the funds Ontario currently uses for fish and wildlife management, so we encourage you to provide thoughts on how to address this funding crisis. Please e-mail us at: policy@ofah.org or comment on the story below.
The current main source of funding for fish and wildlife management in Ontario comes through a joint funding system where the Fish and Wildlife Special Purpose Account (SPA) contributes approximately two-thirds of the program's budget, while general tax revenue contributes the remaining one-third of the funding. The Fish & Wildlife SPA is a dedicated account that includes revenue from 100% of all fishing, hunting, and trapping license sales, as well as fines and royalties under certain pieces of legislation. It provides roughly $71 million annually to fish and wildlife conservation and management, meaning that anglers and hunters shoulder most of the burden of supporting the provincial fish and wildlife program. This is a huge sum of money from what amounts to a small percentage of Ontario's population, and unfortunately, the cost of managing Ontario's natural resources is increasing and the amount of money in the SPA has not kept pace. We're on the cusp of seeing a significant gap between the funding we need for management and what's available through the SPA.
HOW IS SPA FUNDING USED?
The funding is first divided into six categories and then split between specific policies, projects and programs, conservation officers and enforcement, and licence and outdoors card manufacturing. The funds given to the Planning Policy and Regulatory section are used to help manage commercial and recreational fisheries and manage fish and wildlife habitat. This is crucial to help conserve these species and the resources they need to survive. Species and Ecosystem Science uses funds for research and monitoring of fish and wildlife species. This allows Ontario to track which species are most vulnerable and which are thriving. Funding provided to Population Health, Rehabilitation and Enhancement allows for fish and wildlife ecosystem maintenance, including invasive species management and control. It also provides funding for fish and wildlife disease management.
Approximately 19% of the SPA funds go to conservation officers and enforcement, which are critical in helping to protect our natural resources. Safety, Education, and Promotion are also very important as it provides people with the education needed to keep themselves and others safe. Funding given to this section provides education to hunters as well as wildlife education and communication, the prevention and management of human and wildlife conflict, and public outreach.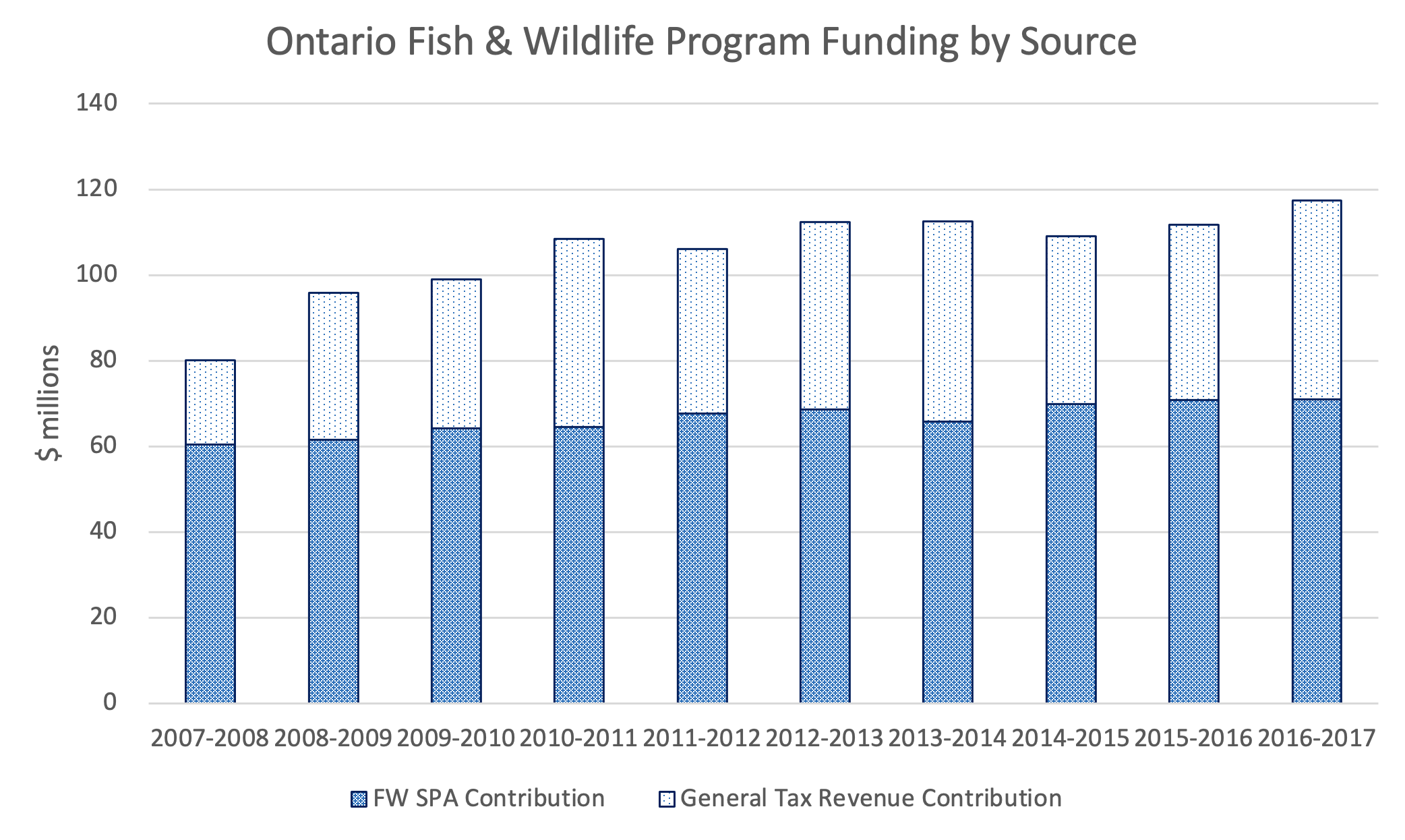 Although general tax revenue contributes significant funds to the total fish and wildlife program, the SPA makes up the bulk of the contribution, heavily relying on anglers and hunters to participate each season. If participation declines, so too will SPA funding, which will greatly impact the ability to manage fish and wildlife. Even with the contributions currently collected, these funds have not been enough to implement the numerous conservation projects and programs that are in dire need of support.
WHAT ELSE CAN WE DO TO INCREASE CONSERVATION FUNDING?
In the United States, the main source of funding for fish and wildlife conservation initiatives is collected through the Federal Aid in Wildlife Restoration Act (known as Pittman-Robertson), which created a manufacture's excise tax on ammunition and firearms in 1937. This generates between $500-million and $850-million annually for wildlife restoration. In 1950 the Federal Aid in Sport Fish Restoration Act (known as Dingell-Johnson) was also established to create a manufacturer's excise tax where sales of fishing equipment, motors, and motorboat fuel provide funding to sport fish restoration. The money collected through this tax is largely dependent on how many consumers buy hunting and fishing gear each year.
Ontario anglers and hunters are already contributing the majority of the SPA funds through licence fees, fines, and royalties, but imagine how much more funding would be allocated to fish and wildlife conservation if we were able to pass even a small excise tax on other outdoor recreation equipment. Contributions to the SPA shouldn't be solely on anglers and hunters. Many people enjoy the outdoors through other recreational means — backpacking, mountain biking, hiking, kayaking, and bird watching. So why should anglers and hunters shoulder most of the responsibility for conserving our land, water, fish, and wildlife? How can we drive more funding into conservation efforts without dipping back into our fellow angler's and hunter's pockets? This is an important conversation.
Some people have discussed creating a 'backpack tax', which would be similar to the excise tax on shooting equipment mentioned above, but it would apply to a much broader range of outdoor equipment. Hypothetically, a percentage of every ATV, pair of binoculars, hiking boots, or filleting knife sold could be set aside for conservation efforts and would allow others to contribute to protecting the planet. The organizations that manage forests and water ways used for recreation could also have an excise tax on equipment, gear, watercrafts, and motorized vehicles rented to the public. Those are just some examples. There are many questions we can continue to ask to help determine the appropriate path forward. Questions like what percentage of the cost to buy or rent an item is affordable to individuals contributing meaningful revenue to the SPA? Are there other options for people to contribute to funding? Would an excise tax on activities versus an excise tax on equipment be more accepted?
WHY IS THIS IMPORTANT?
Contributing to conservation is an investment in a better future. Working to conserve today's environment will ensure that hunting and fishing remain sustainable for generations. Every restoration project and conserved species provides numerous ecological services with broad benefits. Healthy forests, wetlands, and waterways provides essential habitat to fish and wildlife species and provide Ontarians with clean air and water, places to recreate, and improved mental health. If we did not fund conservation projects all of this would diminish, we would lose our clean lakes and beautiful forests and our future generations might never have the opportunity to fish for an Atlantic Salmon, hunt a Black Bear, or even see certain species in the wild.
THE TAKE HOME
The pressure to conserve fish, wildlife, and ecosystems is continuously growing – but funding mechanisms haven't kept pace. Creating better systems to provide more funding is key in preserving what we have today for current and future generations. Whether this be through an excise tax or other means, we all have a responsibility to contribute to conserving our native lands and species.