We started OFAH Catch the Ace game with two goals — raise bucks for conservation, and welcome new OFAH supporters.
This week's Catch the Ace winner of $7,428 (card #4 – the 6 of clubs) is a testament that we are successful in both aspirations.  Jeffrey Shaw, 37, of Toronto, is not an OFAH member. In fact, he doesn't even own a fishing rod, let alone have a personal connection to hunting, trapping, or shooting sports. But, as a hiker and an occasional camper, he believes that we all have a role to play in taking environmental action and supporting conservation which, through his recent attention to various Catch the Ace lotteries, is how he discovered the OFAH.
Today, we are pleased to announce that all outdoor enthusiasts, including Jeffrey, can look forward to another way to win with their passion to support OFAH conservation work. Introducing Trucks & Bucks OFAH Conservation Lottery!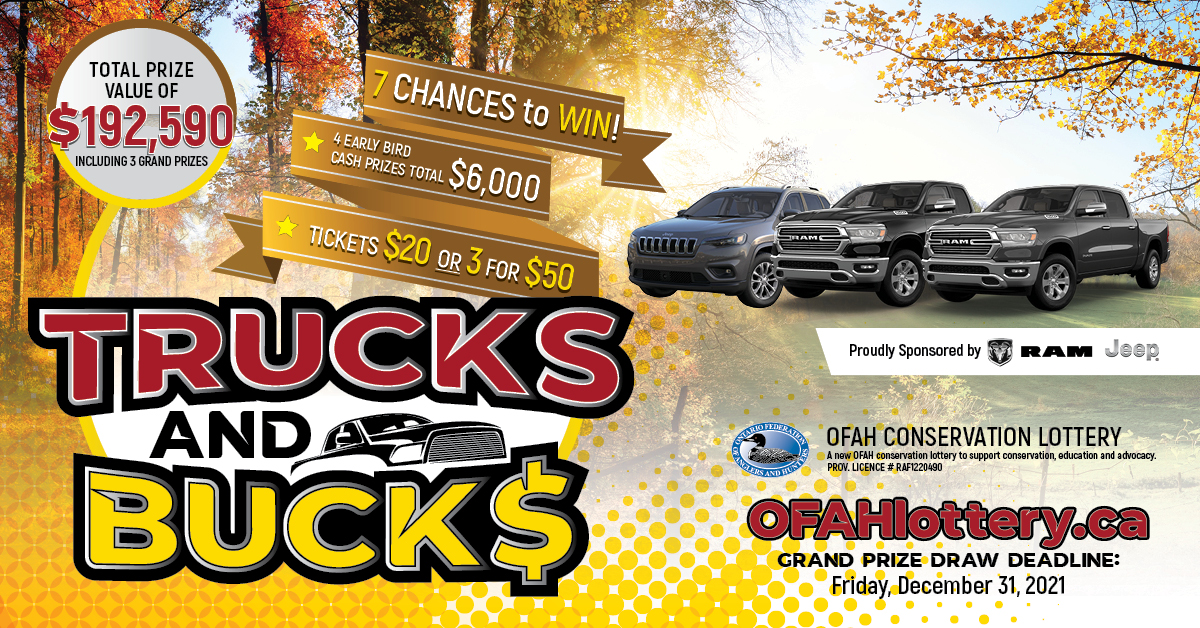 Our new lottery has a limited number of tickets, which we expect will sell out before the grand prize ticket sales deadline of December 31, 2021. As the campaign name itself explains, Trucks & Bucks is a chance for OFAH ticket buyers to win four early bird cash prizes of $1,500 each, and three grand prize vehicles — two Dodge Ram trucks and a Jeep Cherokee. The new lottery website is now live and ready for ticket sales. Please check out www.ofahlottery.ca for a listing of the early bird draw dates and the grand prize vehicles. Going forward, in many cases, the Trucks & Bucks OFAH Conservation Lottery will be co-promoted with the current OFAH Catch the Ace game (or at least until the progressive jackpot is awarded, so keep playing!).
Although the games have modernized and the prizes have changed over the years, we can always remind our supporters that the OFAH has been a leader in charitable gaming (licensed lotteries) for nearly 50 years. We can never forget where our success came from – primarily OFAH members themselves who cared enough to buy OFAH tickets for their family, or volunteer to sell OFAH tickets in their community. That generosity and sincerity is still driving OFAH fundraising today but with the safe and modern-day approach of sharing the OFAH conservation message online.
Thank you to everyone who helps promote our membership and fundraising campaigns. Even if you're not buying tickets or taking on membership, your OFAH pride helps other people (like this week's Catch the Ace winner) get inspired from your #IAMConservation passion. Keep up the great work!