It all started in 1974…
Like you, tens of thousands of Federation members have, at one time, clicked a fridge magnet over top of the receipt-end of an OFAH ticket stub.  That loon-branded ticket (listing all of the top prizes) always caught your eye. It was a household reminder of your latest investment in conservation. And, you can admit it… every pull on the refrigerator door opened your imagination about winning an OFAH grand prize.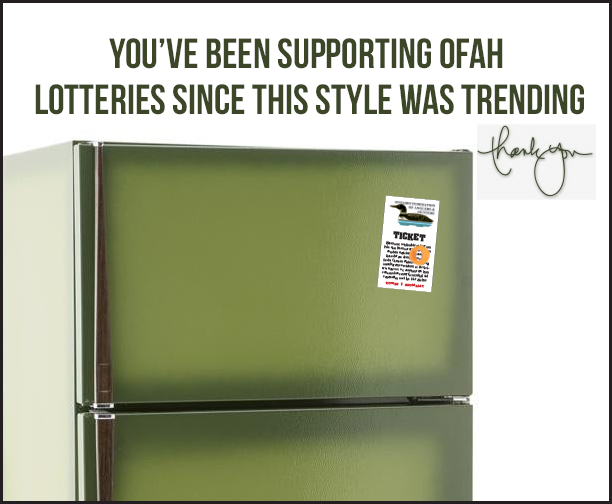 Satisfaction in supporting chance and charity started in 1974. That's right. It's been almost half a century of OFAH conservation fundraising. Our provincial lotteries have awarded tens of millions of dollars worth of trucks and jeeps, boats and travel trailers, Argos and ATV's, and even diamond rings.  Ticket selling and grand prizes have changed but the investment of your hard-earned conservation dollars has not. Today, ticket stubs stare back at you from a computer or phone.
Taking the latest Catch the Ace winners' phone call is Sylvie Valcourt, of Bracebridge. Sylvie, and her husband, Serge, inspired us to digress about our lottery history. The Valcourt's had years of hanging hope of an OFAH ticket onto their refrigerator door. Their positive thinking paid off. Sylvie now has the biggest weekly CTA win ever coming her way — $27,508 — after flipping over the last Queen (card #18). Eight cards are now face down with an Ace of Spades that is running up an $800,000 fortune.  Wow!
A NEW ERA FOR LOTTERY FUNDING
The new era of OFAH lotteries supports the new era of environmental priorities. By today's consideration of climate change issues and efforts to tackle them, OFAH members once again stand out as grassroots self-starters who set a green example. Volunteer hats off to everyone for pitching in for the environment in so many hands-on and in-the-field kind of ways, specifically for local habitat restoration projects. Well done! For over 50 years, your passion for land stewardship initiatives have been funded with membership, donations, and ticket sales.
A SPECIAL ACKNOWLEDGEMENT
We humbly credit the volunteer spirit of OFAH members who for years (46 to be exact) took OFAH lottery ticket books to their workplace, shopping malls, community events and outdoors shows. You worked your ass off to sell OFAH tickets. You also bought plenty! You always make the OFAH proud in flying the conservation flag. We wouldn't have a fundraising history or future without you.  We can never thank our lottery supporters enough.
CONGRATULATIONS!!! You are part of OFAH lottery history, and lead the way for our conservation future.
P.S. Week 45 starts now. Good luck!