Ontario OUT OF DOORS Magazine Digital
Ontario OUT OF DOORS has gone digital!
You can convert your subscription to Digital for free.
You can become All Access for $5.95 a year.
All Access
Get the print edition of Ontario OUT OF DOORS delivered to your home, and a digital edition delivered to your inbox.
Keeping you connected wherever you are!
SPECIAL NOTE: All digital subscriptions include the bonus digital publication Deer: Master Guide to Hunting Whitetails.
Technical FAQ
Here are some frequently asked questions about our digital version. If your questions are not covered here or in the video, please contact us at digital@oodmag.com or 1-800-361-0645
How do I access the digital edition?
Click on the link sent in the notification email that you will receive with each issue or go to digital.oodmag.com and log in.
What is my username and password?
Your username and password are originally set as your email address. You have the option to change your password once you log in. If you have forgotten your password, use the "forgot password" function on the log in screen.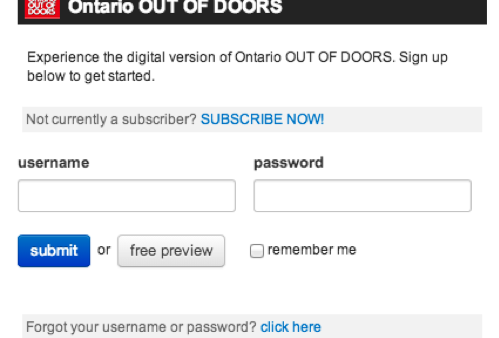 How do I read this on my phone or tablet?
Be it your phone, tablet, or desktop, you access the digital version the same way. Click on the link sent in the email or go to digital.oodmag.com and log in. If you are on a smartphone, you may want to take advantage of the text option for a better viewing experience. Simply click on the "T" in the top toolbar.
What is the digital format?
We publish through a company called Uberflip. The digital version is in the form of a flipbook, which is an enhanced PDF. You can access it anywhere you have Internet access.
Do I need a special application or program to read the magazine in digital format?
No. You just need to have Internet access. If you use a desktop computer, your viewer's browser needs to be Flash-enabled. (98.5% of all desktop browsers are Flash-enabled). Javascript and cookies must also be enabled. If you are on a mobile device, there's no need to install anything. Our mobile interface works on almost any touch-screen device, including the iPad, iPod Touch and Android phones.
Can I read my digital magazines at work and at home?
Absolutely! You can read your digital issues anywhere that you have internet access You just need to log in.
Why do you need my email address?
We need your address because we send you an email with a link to your digital issue. As well, it is used as your username.
How do I download my digital magazine?
No download is necessary. Because the digital version is web-based, all you need is access to the Internet. You don't need to download it to your computer or tablet or mobile device like some other publications.
However, if you want to download the PDF version for viewing when you don't have Internet access, you simply log in and click on the

function in the top toolbar. Please note, downloading the full PDF will give you an exact replica of the print magazine. It will not include videos or extra photos.
Why can't I get Ontario OUT OF DOORS through Next Issue, Apple Newsstand or Google Play store?
The digital version of Ontario OUT OF DOORS is not an app. It is an enhanced flipbook. The providers mentioned above sell apps. You can access the digital version of Ontario OUT OF DOORS on any desktop or mobile device by going to digital.oodmag.com. You can also add the webpage to your home screen for easy access.
Where do I go with additional technical questions?
Email our digital customer support at digital@oodmag.com or call 1-800-361-0645.
Subscription Related FAQ
Can I switch back from the digital version to the print version if I want to?
Yes. Simply contact our customer service department during regular business hours at 705-748-OFAH (6324).
Is a subscription to the digital version more expensive than the print version?
No. A subscription to the digital version costs exactly the same as a print subscription, $26. American and international subscribers save by choosing the digital version because there are no additional postage costs.
Why is the digital price the same as print?
Our digital subscription price includes other costs associated with the creation, hosting, and distribution of digital content, similar to costs necessary to publish the print product.
How is the digital version different than the regular print version?
The digital version is an enhanced version of the print version. It has all the same articles but offers embedded and pop-up videos, live links to websites, and bonus photo galleries in addition to these advantages:
automatic delivery of every issue directly to your email inbox, often days earlier than you would receive the print version by mail;
access to the year's worth of back issues, making finding specific articles easier;
download the entire PDF to your desktop or just print out a page if you like; and
as a bonus, you receive Deer: The Master Guide to Hunting Whitetails — a digital- special interest publication that is only available to digital subscribers.
Does the digital version contain everything in the print version: articles, photos, and advertising?
Yes, it's exactly the same. You won't miss a single article, photo, or ad. Plus, you will get more photos via our digital photos galleries!
Do I need to subscribe for a whole year, or can I just buy a single issue as I do on the newsstand?
We aren't able to sell single copies of our digital edition. By subscribing, you save in the long run. A 1-year subscription is only $26. Each regular issue of Ontario OUT OF DOORS is $5.95, and the hunting and fishing annuals are $6.95 each on the newsstand.
Will digital archives be available? If so, will there be a charge to access the archives?
When you subscribe to the digital version of Ontario OUT OF DOORS you get access to all of the 2014 digital issues, including the digital-only special interest publication on hunting whitetails, at no extra charge.
Who can I contact with additional subscription-related questions?
Email subscribe@oodmag.com or call 1-800-361-0645.
Convert your subscription to Digital for free